What is Delaware Bpo?
Some consumers say they have received a robocall in the last few weeks from someone posing as Lisa from Delaware BPO. The calls from Delaware BPO are a prank, however, and the company is a fake, according the Better Business Bureau.
What is delaware bpo robocall?
Robocalls aren't all scams; some of them offer useful information like a reminder or a warning. However, con artists have discovered that using robocalls to defraud innocent people.
Many users on Redit- Rasta4eye Claimed that they received robocall many time in a day approx. 6-7 in an hour.  He Tries to blocked it many times but couldn't. Delaware Bpo Robocall from different numbers.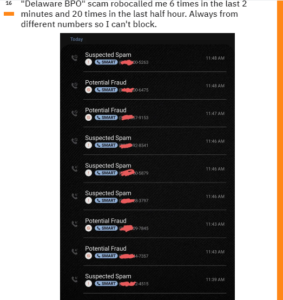 Moreover, he added this number to blocklist but still receiving the calls from different numbers.
Delaware BPO Call Scam (Robocall script)
I keep getting what appears to be scam calls from the telephone numbers below where the callers claim to be Delaware BPO, offering business solutions. Below is a transcript of one of the call
Hi, I'm Lisa calling you from Delaware BPO. How are you doing today? Glad to hear that at Delaware BPO we handle your company's incoming and outgoing customer calls at a very cheaper rate. So if you are interested to hire us please say yes.
These are the pre-recorded words that dewlare bpo robocall narrate. Many user claimed that these are trick to scam you by offering you business services. if you response to their call and says " Yes" Then they record your voice , main purpose of these bpo scam calls is to get your personal information then blackmailed you .They may ask you ti submit your address or add financial details on a page..
Scam calls may not come from same number, but they tried to reach you via different  e-mails, phone numbers and also from different company names. And ask you to share your credit card information's.
How to stop Delaware bpo calls scam:
By taking the following actions, you can reduce your risk of falling victim to a robocall call scam.
When you realize it's a robocall, end the call:
I hung up the phone after recognizing it was a Delaware BPO robocall. Less information is given the less you talk.
Avoid using the word "yes":
Most con artists ask you questions so you will answer yes. This will be noted and used to verify access to your funds. So, if you think a call is a robocall, refrain from answering it. By following the robocall's instructions, you affirm that you are a potential victim and grant the bot permission to continue calling you. Do not do this.
A business may phone you and make alluring offers before giving you instructions that will require you to give personal information. Don't follow the instructions the bot gives you if you want to avoid being conned.
Inform the authorities about the call.
Report the number to the network provider so they can look into it and block the user if you want to stop receiving these robocalls. To prevent being conned, the public is informed of the number and its details.
If an unknown number claims to be from a business, you should proceed with caution. When you receive such calls, it is best to hang up and find out who is calling and from what number. You can always get back to them if the information is accurate.
How can I prevent Delaware bpo scam robocalls?
The following advice will help you prevent receiving robocalls from scammers.
Use a carrier blocking app on your smartphone.
Whether an Android or iOS operator, the majority of smartphones feature call-blocking functionality. You can download a free app that blocks calls if your phone does not already have one. Use the robocall number to get in touch with your network service provider if the blocking device doesn't function.
Never respond to unknown callers.
to keep yourself from getting seduced by the con artists or being a victim of their tempting offers. Let the call from an unknown number go to voicemail instead of picking it up. You can decide if the voicemail is genuine or a fraud after hearing it.
Utilize your phone's Silence Unknown function.
The majority of phones have access to this capability. It mutes calls from unidentified callers or from numbers you have never contacted or texted. Unknown callers' calls are first added to your recent list and then transferred to voicemail, where you can verify the call's validity. To use this function, go to the settings and enable the function to quiet unknown callers.
Don't share your phone number in apps that aren't verified.
Instead of entering your phone number when registering for a service or app, think about using your email address. By doing so, you'll provide less information and become less of a target for fraudsters. Additionally, it can shield your number from a data breach, which is how scammers get access to lists of numbers.
Follow these fundamental recommendations in order to safeguard your personal information:
Never open a link that comes from an unauthorized or unexpected sender. This includes links you've received in emails and text messages.
Pay attention to notifications indicating your account is in danger. These could seem to be genuine correspondence from a business you do business with, but frequently the letter contains errors.
Passwords, crypto wallet keys, and other sensitive data should never be shared. Both online and over the phone, this is applicable.


I received the calls from the following telephone numbers: They are using the following number:
888-514-5863
800-439-1644
866-237-8226
800-313-1560
833-338-3874
888-787-0401
888-315-8307
856-754-1246
877-950-0202
888-455-3119
800-823-0735
833-465-5119
855-248-6264
254-331-6313

You can add more numbers in Comment below.